A small break from my travelogue. I did purchase a few J Crew items before the trip during a recent promotion. Heck, let's be honest, there now is always a promotion going on at J Crew. Either their original prices are too high or they have gotten themselves and their customers used to sale, sale, sale! Still go for the basics.

My measurements: 38/29/39..5'6

Here we go...

Perfect Shirt in Crosshatch Linen
size 10
here
On Model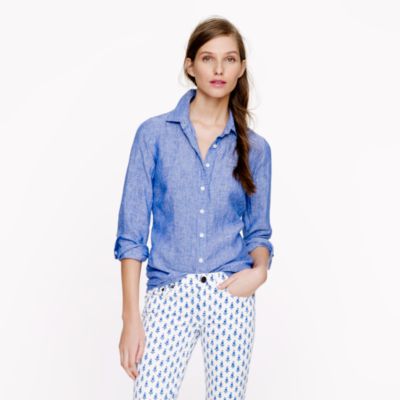 On me:
I like this shirt tied...just not a half tucked in person
Up close and personal:
A bit too low
A bit too high with a a bit of gaping
Must wear a cami
Showing the length
In front of J Crew chambray shirt
This is a brighter blue and I love the color. I also love the shirt. I have already washed and worn several times. It does not wrinkle very much at all. I dried on low and took out while a bit damp so I could hand press the collar..no ironing for me if I can avoid it.
Next...
Perfect Shirt in Linen
size 10
here
On Model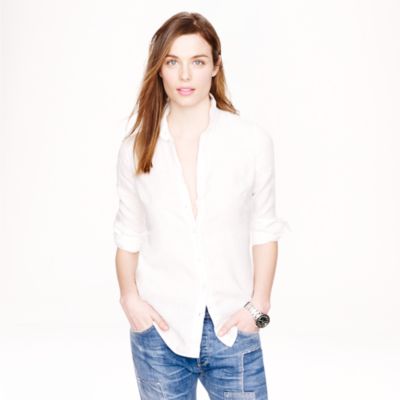 On Me
I would push the sleeves up but wanted to show length of sleeve.
Buttoned up and no gaping. I do have a camisole, but I usually wear without...nude bra.
And...
Marled Linen V-neck Sweater
, size M in Marled Lilac (ON SALE)
here
On Model, she's wearing Marled Sand: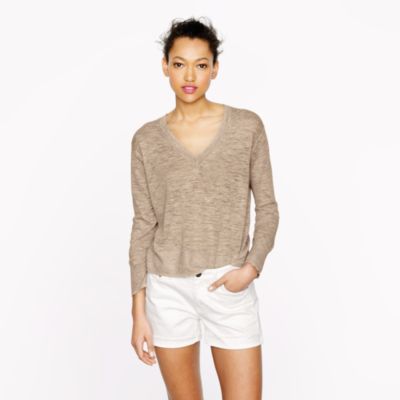 On Me:
Close up. Cami is required and I am wearing a Favorite Tank in a nude color that I can not find on the website. This is light and airy. I also bought in the Marled Sand because the price was so good. I washed on handwash cycle and dried flat. These sweaters are so light weight and work for my figure. Some comments were that it was too boxy. I liked.
Not done yet...
Vintage Short Sleeve PJ Set in Dot Foulard
, Size M
here
On Model:

On Me
Close up. No gaping and I am not wearing a container for the girls. This is a nice weighted cotton with NO sheerness. It passes the "have a son at home" test.
Finally...
White Colorblock Shift Dress
, size M in Blue..no longer on website
On Model in Red/Pink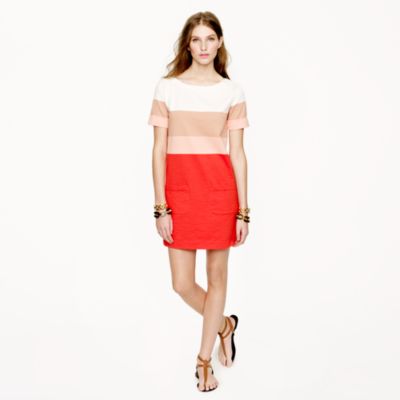 On Me
I loooove this dress. So easy. Maybe they will have it in the sale racks, that's where I found mine.
Sorry!
I actually purchased all of these at my B&M store. I hardly ever go shopping unless a computer is involved. I really do like everything I purchased and have worn, washed and worn again.