I am starting to feel like the Little Engine That Could. Almost done.
Let's get started.
Okay. I need to make sure I have two bottoms and two tops in both navy and grey.
Hmm.
I did eliminate the lounge wear and cardigans for this step.


I had everything in navy but a navy jumper.
I definitely need to keep that in my wardrobe.
Grey was another matter. I added in my dark grey cords and then it
was a toss up on the sweater. I had quite a few to choose from but these two made the cut.
I also have an old J Crew v neck cashmere sweater that has really seen better days.
I will hold off replacing to see if I really need to.
So, one is casual, the other a bit nicer and sexier. They are both keepers.
I know she said four, two tops and two bottoms, but I am rebelling just a bit.
Well hell, I need a grey blouse/shirt I think.
Maybe this one is in my future (
I ordered it
):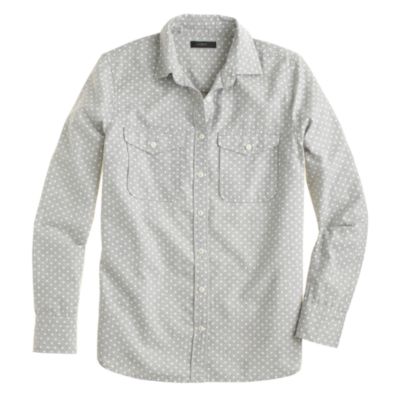 J Crew Polka Dot Flannel...Flannel!
DAMN. I really don't have any pattern. But then, I really don't like pattern.
Let's add just a few items, all that I presently own and love...
I added a green blouse, light blue and white silk blouse, a white tee, flannel shirt,
grey/navy tee, stripe long sleeve tee, big thick navy cardigan, grey sweater coat, navy trench,
moto boots, brown kicks, and two scarves.
Gee, I think The Vivienne Files added two maybe four. Who's counting?!
She's in Paris so she won't mind.
My "To Buy" list includes the two loafers/flats and a colorful bracelet.
I got the navy cords yesterday. And I'm still waiting for Em's gift to arrive. Yay!
Now what about the rest of my junk? Some is getting packed away in case I miss it.
Some is getting sent to Goodwill. Some is getting thrown away...stains, holes, pills, toxic pits.
And then some is remaining in my closet.
Example:
Love this color but can not wear next to my face. I own these lovely accessories and they
look fantastic with my navy and grey core clothes.
I am loving this color and am seriously contemplating the coat and sweater (if the thing
would ever go on sale). I think I would look great in my navy or grey with these
wonderful items.
Or maybe just a new bag in a new color? Would look terrific with grey too.
*****
More power to you if you do the 33 project or are a minimalist. Not me.
This has been a wonderful
chore
exercise to do before fall/winter comes and I just buy buy buy.
Time to get on Pinterest!!!