Well I have had a crappy couple of weeks. Got robbed, had car repairs, and had to replace my work computers because I lost the mother board on mine and the two were networked and they were over eight years with no updated operating system...had to be done. Because I haven't had a computer at work, I basically have been off for 10 days with plenty of time to troll the internet. Basically e-bay. Somehow, somewhere ( I am giving credit to
DaniBP
) I have linked to
Mai Tai Picture Book
and have become quite enamored with these Hermes scarves...just not the price. This is what I found...
The Art of Hermes Scarf Kugor Tree
There is still one available for $389 but I got mine for $175. The seller just had three items to sell and wasn't trying to make a living off e-bay.
On me
Yes, I watched the tutorial on how to fold the basic bias fold.
Now I need one of those scarf ring thingies. I asked about them at our local department store, Dillards, and they just stared blankly at me. They have got to meet Mai Tai!
I also discovered
Block Shop
from
Girls of a Certain Age
. Now I waited and waited until this beauty was no longer sold out.
On me...
Fine. Here's my face.
I do like it but it is not as vivid as I thought it would be. I do believe I'll be trolling for more Hermes next time.
Quick story...While the computer guy was installing my computers and downloading my info from my old hard drives, what else was I to do but clean/re organize my pantry. Which then led me to my tupperwear. Imagine my surprise when I pulled out a large container with an entire pork tenderloin inside rotting. Hmmm.
Now on with J Crew.
Stretch Suiting Tee
size L in Navy
On the Model in pink...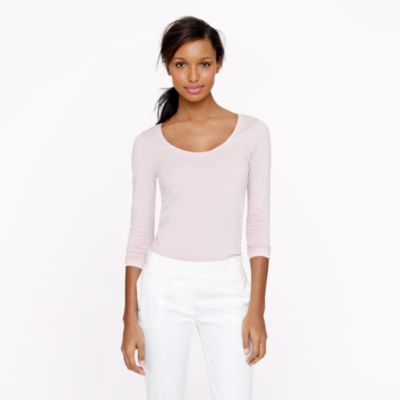 On me...
The neck line is more of a u shape on me. The sleeves are 3/4. Usually in tees, I take a medium (36D - 38") but somewhere, somewhere I read to go up a size. Glad I did. Fits wonderfully. Is not shear at all. If they would only carry it in a rich chocolate brown I would buy another.
Perfect Fit V Neck
size M in Navy
On model in Pecan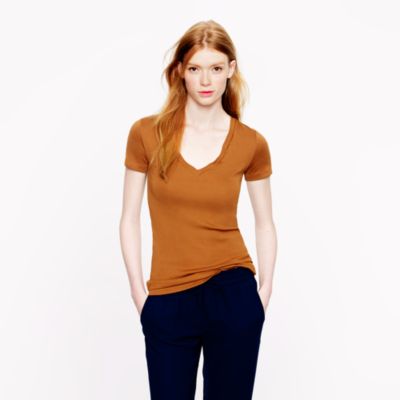 On Me...
Do ya see my flip and fold? Again, the neck line is just different on me. This works for me. The long sleeve ones do not.
And finally...
On Model...
On me...
Loving the shorts. Those are from Dick's Sporting Goods. Do not google Dick's without adding Sporting Goods. Everyone in my family has made that mistake. Back to the shirt...I really liked this but the fit of the medium was just too tight under my pits. Everything else was perfect except it is stiff and some could find the texture irritating.
Maybe just a little. Girls say "Hey".
Has hook and eye closure at the back. I could not for the life of me get it closed when I had it on. I could barely raise my arms tho.
Good God who's arm is that? Sigh. After the Squat Challenge
looks like I need to start an Arm Challenge. Oh, wait a minute, that's the palm of my hand. Phew! Anyway, nice detail at sleeves.
And neck.
Regular old hem at bottom.
I returned at the store hoping they had a large. They did. Fit better at boobs but way too big in the body and it just didn't lay right at the neckline anymore. If itty bitty store in Knoxville has these, yours should too. I would definitely recommend this shirt but try it on first especially if you have big bosoms.
Have a great week end!