Ebay is definitely a hit with me. I do hope we just keep dating and it doesn't turn into a full blown obsession. I could see how it could. My Kenneth Cole Trench arrived. I honestly loved the Burberry plaid I tried on but something was off with the fit. For that money, heck even half off on ebay, it is hard to justify. Plus, a trench is not something that gets a lot of use around these parts...or at least not until this year (didn't know Knoxville had turned into a rainforest).
On the Model: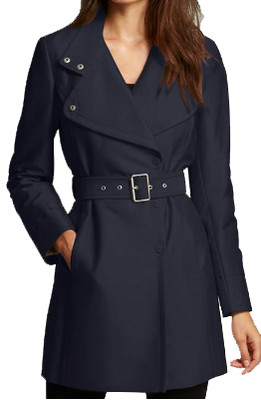 Unfortunately, the seller just has 1 left in size small. I placed the order on Tuesday and had it by priority USPS on Saturday. Not bad service. Not sure why the price is up...I only paid $105 with shipping. Hmm.
On me:
Hey look. I'm wearing navy!
I chose to tie my belt...cuz I'm stylish like that.
It has snaps not buttons...
More this color...
I like that the hardware is not bright and garish.
Back of coat and detail.
Has Vent.
Snaps have Kenneth Cole on them. Subtle advertising.
Belt and Buckle detail.
Sleeve length is just perfect, even for my short arm. I have one slightly longer than the other. I also have one foot bigger than the other. And one boob bigger than the other...and they point in different directions. Sorry. I should have said "sag" in different directions.
There is nothing to cinch the arm holes but I do not plan on wearing in a torrential downpour. I'll just stay in and watch Project Runway.
Close up of neck line and the girls always want to say hi.
With a dress.
Gives a better indication of length. I love it and am so happy I took the chance with Ebay.
Last Shot...
Too lazy to tie but yes, it has pockets.
I have finally heard from insurer and should get my money by the end of the week. We have spent a good portion modifying our alarm system. If you come up my drive way picking your nose and scratching your ass, I'll get you on film :)