Okay. I am a firm believer in getting a bright and early start, especially when shopping is involved.
I will say, gasp, I am not a good shopper. I am also not used to shopping with lots of other people. Waiting for a dressing room is the kiss of death for any items I might totally love. So we were up by eight and on our way to Grammercy Park by nine for breakfast. I wanted to be at the first store right at ten when it opened.
Now this trip was actually my fifth time to NYC (have not been since Christmas 2009) and I wanted to try something different. I have never been in the Grammercy area and according to the map there are lots of stores to chose from. So...
We went to the subway, got our tickets, went through the stiles, realized we wanted downtown not uptown. $7.50 spent just like that! Went back through the turnstiles, up top, across the street, down to the subway, through the turnstiles, and another $7.50 spent for the three of us. So there we waited. This is what Hunter had on:
He wore his orange shirt, khaki pants, and loafers. This is what he looked like:
Two different people approached him and asked for directions. A total of six people asked him for directions while we were in New York City. He only knows of one that he actually gave incorrect data. Em said it was because he looked so friendly. I say it's the big ol chrome dome. You know what they say, " Little hands...little gloves." Wrong saying..."Big head, big brain".
We ended up at Union Square Park. There was a wonderful farmer's market. Asked a bunch of cops where to eat breakfast and we ended up here...
Do not come between a Harrison and their breakfast.
Had a good omelet. All the waitresses were eastern European, tall, thin, and waiting to be "discovered". Hunter headed off to the Chelsea art district and Emily and I began to shop. this is how we did...
Emily - Forever 21
She got something else I just can not remember.
Emily - Anthropologie
At this point I realized I was not being taxed. In Knoxville, our sales tax is 9.75% so this really is a wonderful benny. This dress was on sale for $39.95. Now that I have an Anthro, it was hard to get excited. I did try on a few things and was very disappointed by the Brighton Wide Legs
here
. I thought they would be perfect. Not only did my ass look wide and flat but so did my crotch. Not pretty. I left empty handed and was now getting pissed. I wanted a bag to carry and not Emily's shit. We went in Free People - too boho for me. Tried Joe Fresh - if you need basics this is where to go. And then there it was - J CREW - and bigger than a breadbox.
Me - J Crew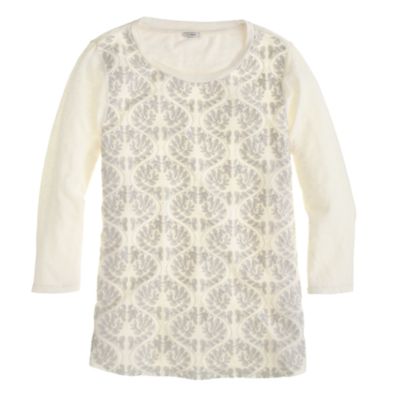 Yep, that's it. I swear I tried but this really is lovely. In celebration of Columbus Day Week end, everything was 25% off. There were so many sales people it was ridiculous - borderline obnoxious. But this was actually sitting in my online basket. I did a Large even though it is a tee thinking it would shrink a bit. Nope. Already worn and washed (wash inside out) and dried. Fits the same. So...TTS.
Just like Ft. Lauderdale has a strip joint on every corner, Knoxville has a church on every corner, New York City has a Gap on every corner. They had a hell of a sale.
Em - Gap
A little deconstructed but no hole in the knee.

She also got a really pretty, thick, navy and white striped draped cardigan/sweater coat. I can not find it on line. They had a grey and white that I originally tried on but just too much material for the girls. It looked great on Emily.
Okay, Em got the Sexy Bootleg. I got the Perfect Bootleg. Sigh. Not sure why I even bother. Just put me in a house coat in front of the bird feeder and call me old.
While I was standing in line I noticed this cute scarf and decided to get it at the last minute. The cashier tried to give it back thinking it was mine. She gave me every possible chance to just claim the scarf but I insisted I got this from a display. Well, it wasn't a Gap scarf. Chances are some one wanted a new scarf and left this one in its place. Lost and Found for 30 days and then it could be mine. One persons trash was going to be my treasure. Just not meant to be.
By now the throngs of people were everywhere.
I tried Club Monaco - no luck. Em tried H&M - lasted one minute, way too crazy. She got a bra at Victoria Secret.
Pretzel Time! We needed something for energy.
Then I found what I was looking for.....
Isn't Billy beautiful? It is perfect except for Vince's name on the back side - I may sharpy it so it is not as obvious.
I could have bought shoes but I really didn't want to lug them around.
That's it. Kinda anticlimatic, eh?
I have got to shrink this tee!
Back of the clutch - a bit gaudy gold letters.
Washed and still no gaping for the girls.
Hunter always makes fun that when I go shopping I always get a white shirt. Part of the issue is my toxic under arm sweat...but look honey, I got two!