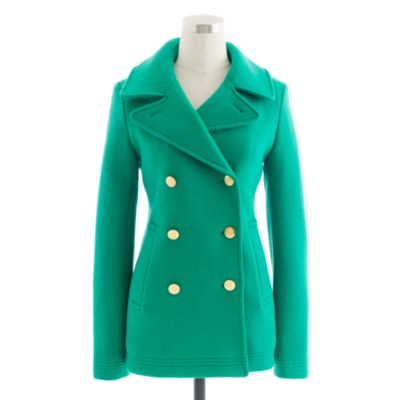 I have been stalking this baby for awhile. J Crew has made it nearly impossible with all their discounts and sales to resist. Finally when they had the outerwear sale, after the select things on sale, after the fall sale...on and on...I figured some one was telling me something so I bit the bullet.
This is more the true color than the website. Which I looovvveee even more. Was a bit afraid it would be lighter and more pastel. It is of substantial weight and thus I will now be stalking it in my closet until winter. On me:
This is a size 10. A sweater fits comfortably. A blazer would not. I am 5'6. The sleeves maybe a bit too long but still love it. The fact that I can wear a sweater or shirt NOT tucked in and it will NOT be sneaking passed the hem I am delighted with. The buttons...well...could be better. However they are sewn on really well:
The smaller button is on the back of the gold buttons. Very good job J Crew. I can not get over how excited I am to wear this baby. Must be love!