I really did not give "sleepwear" much thought until my son got to a certain age. Then...I was always on the hunt for something I could wear not neccessarily to bed but at night and early morning. I am a 36D and want to let those girls free in the evenings. I do not want to always have to wear a robe or some terry cloth or flannel item of clothing. I gave this a try because I wanted something to lay in bed and watch TV, read, etc. but still be decent in case my son came in, whatever...
On the Model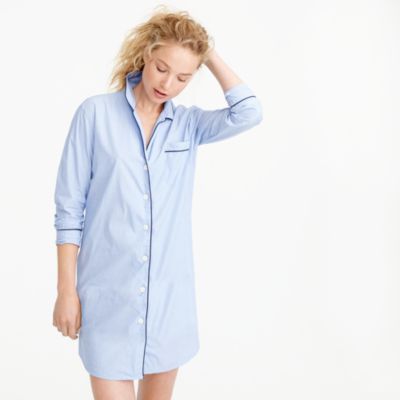 On Me
Forgive the wrinkly knees and the double chin. I do find it interesting the differences in the actual night shirt on the model versus what I got. Pocket on different side. Buttons on different side. Her's looks lighter and shorter (okay she is probably 6'. I am 5'6). The color in my picture is spot on.
It is a thick, soft cotton yet still crisp. I am not wearing a bra and it looks modest. I did get a large because I wanted it big but I think I could have gotten a medium and been fine. I usually wear medium except when shirts have buttons. Then it is size 10 or Large. However...Since I have no bra and they are not standing proud, a medium would have been fine. Happy with the large tho.
Side profile
My shoulders are pulled back and no peekage. Keeper. Although, now it's cooler and I am breaking out the flannel!!