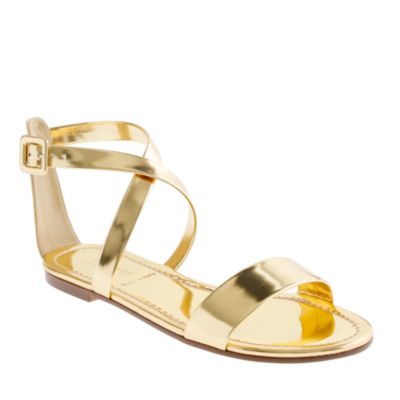 J Crew Kira Metallic Sandal, Metallic Gold
here
I have been thinking about these sandals. I have used them in numerous Polyvore pages. I had my reward card from J Crew. Time to orders these beauties.
Either it is my white legs or the blinding sandals. Wow! Yes I need a toe job but who notices my toes with these puppies on. They are REALLY gold.
With yoga pants. Boy my feet are REALLY white.
Thank you lighting. You can still see how reflective the shoes are. I ordered my normal size 9 and the fit TTS. Not used to bindings on my ankle. Not uncomfortable just a bit awkward for me.
No support but I was expecting that. When I walk in them my heel sticks and makes an annoying noise when it pops off.
I hooked a gold bangle to show it is exactly the same color, shine, etc. I think they are a beautiful style of sandal but they look sooooo cheap. They are going back.
I am going to try these next. I have another pair in reptile print. They are very comfortable.
Gentle Souls Upon a Star
here